U13A WIN BRONZE AT PROVINCIALS
---
---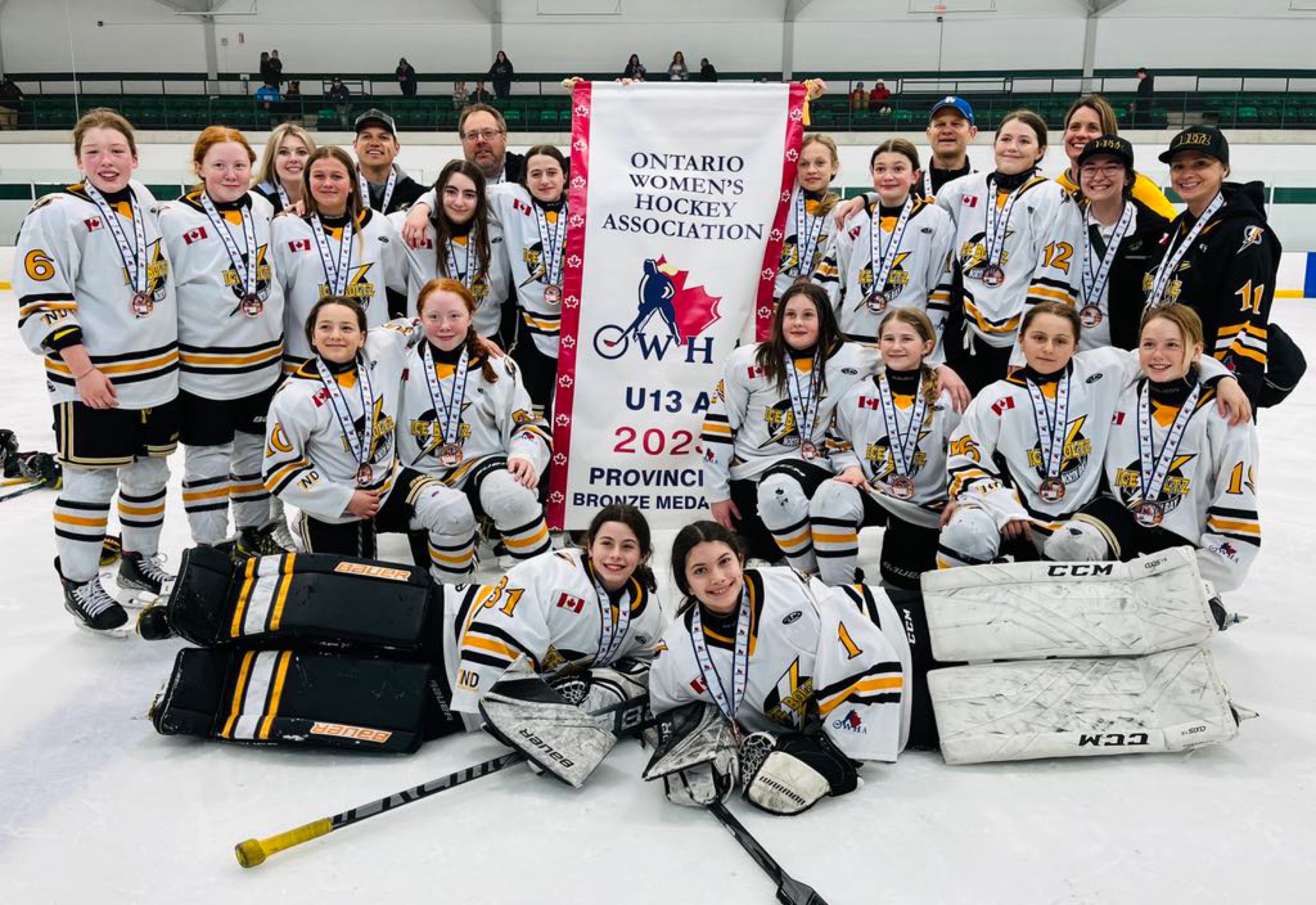 ---
The U13A North Bay Ice Boltz have had a strong showing during the 2022-23 season. The U13A team advances to the OWHA Provincial Championship that was held in the GTA from April 13-16, 2023. The Ice Boltz were set to play against Peterborough, Thunder Bay and Owen Sound in the round robin portion of the tournament. The Ice Boltz defeated the Peterborough Ice Kats 3-2 to open the championship. In game 2 of the opening round the Ice Boltz fell to the Thunder Bay Queens 4-1, and then went on to defeat Owen Sound 2-1 to earn a first place finish in pool play and giving the team a bye to the Quarter-Finals.
In quarter-final action the Ice Boltz took on the Woolwich Wild where they skated to a 2-1 advancing them to the medal round. In the semi-finals the Ice Boltz held a 3-1 lead but the Windsor Wildcats battled back to tie the game and force overtime. In overtime the Wildcats found the back of the net to send the Ice Boltz to the Bronze Medal game. In the Bronze Medal game the Ice Boltz faced the Barrie Sharks where they went on to win 3-1 earning themselves a provincial medal to cap off a great season.
Other Ice Boltz at Provincials
The U18AA Ice Boltz advanced to the OWHA Provincial Championship after beating the Sudbury Lady Wolves. During the championship the U18AA had some close games but ended up bowing out after round robin play. The U11B and U15B teams also had a similar path to get to Provincials having to defeat the Lady Wolves. The U11B team had a great season winning a number of tournaments and the NOWHL league title but unfortunately did not advance from the round robin at the OWHA Championship.
The U15B team had a great showing at Provincials finishing the round robin in 1st place of all teams at the championship. The U15B's lost a heartbreaker in double overtime in the semi-finals, sending them to the Bronze medal game where they fell 3-2 to the Collingwood Lightning.