Junior Lakers FAQ
---
---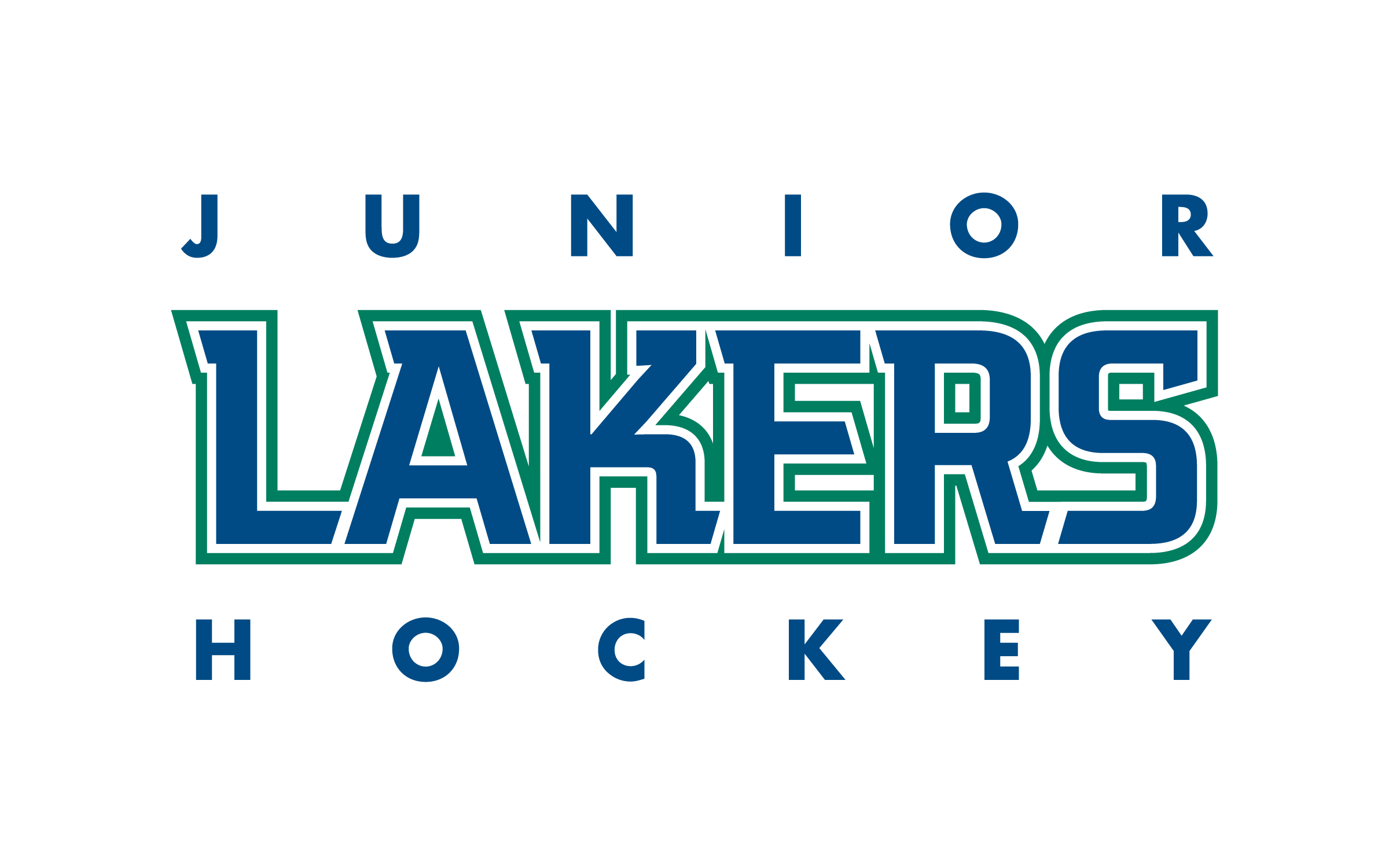 ---
North Bay Junior Lakers FAQ
How Much will new jersey's cost?
We have secured a great deal with a local supplier; with the competitive pricing the supplier is offering the association will be purchasing jerseys for the first year and transition to the Junior Lakers. Players will have choice of number and name bars will be included.
As a House League Player do I need to buy new Equipment?
No, house league players will not have any equipment requirements and can wear any colour pants, gloves, and helmets. House league players will receive their own jersey to keep for the 2023-24 season.
As a Competitive Player do I need to buy new Equipment?
It is not required for competitive players to purchase new equipment for the 2023-24 season. Ice Boltz pants, gloves and helmets will be grandfathered for the 2023-24 season. When players outgrow or need new equipment, navy or navy/Laker Green gloves, Lakers Green helmets and. Navy and Lakers Green pants and pant shells will also be available for purchase.
As we know hockey is expensive we are working to secure a sponsor to purchase NBDGHA Jr.Lakers pant shells for the 2023-24 season.
Do I Need to Purchase a New Hockey Bag?
No, NBDGHA players are not required to purchase a new hockey bag.
What Apparel Do I Need?
Teams will have the option to purchase apparel from our 2023-24 apparel catalog, NBDGHA Jr.Lakers will receive the same discounted price as Nipissing University as part of the agreement.
What Benefits will the Association Receive with the new name?
Teams will receive access to off ice dryland training facilities at Nipissing University at a reduced rate, each team will get 2 free dryland training session gym time at Nipissing University Athletic Centre. This will include gym space, field time, and access to boardrooms and classrooms for team meetings and video sessions. We will also receive space for an end of season banquet and wall space at the university to have all award winners and championship teams listed.
Players of all levels will receive mentorship from current Lakers Players, additional skill development, and coaches (both house and completive) will get access to professional development days.
What Skills will be Offered?
House league players will receive skills sessions 1-2 times per month in place of a weekly practice. These skill sessions will be held during regularly scheduled practice times to keep costs down for house league families and to increase skill development to help increase the skills being taught within the association. We also plan on bringing back our Tuesday morning skill sessions, these sessions will be run by Lakers players at an additional cost to families and players who are interested, players/goalies from both house league and competitive programs can access these.
What if I want to buy new equipment now? When will it be available?
Because the items are custom there is a minimum production time of 75 days so items will not be available until mid-August. Source for Sports will begin taking reserve orders after June 1st to ensure players wishing to have the new gear will be ready for the fall. Source for Sports will use stock models of the items that are on order to fit players.
Is there an incentive to pre-order product?
In addition to ensuring that you will have new product before the season begins, the promo pricing below will be offered until September 15th after which time the items will return to the regular pricing.
Anyone who purchases items from all 3 categories will be able to choose (1) of the following added value items, $30 Source for Sports Gift Card, 10-Pack of Skating Sharpening, or 50% off a Skate Sharpening Seasons Pass. This offer will be valid until September 15th, 2023.
| | | |
| --- | --- | --- |
| Gloves Bauer Custom | Promo | Regular |
| Jr | $140 | $150 |
| Int | $155 | $165 |
| Sr | $165 | $185 |
| Helmet Kelly Green | | |
| Bauer Reakt 85 | $130 | $160 |
| Bauer Reakt 150 | $220 | $270 |
| CCM 170 | $190 | $230 |
| Warrior PX+ | $109 | $199 |
| Pants Bauer Custom | | |
| Jr | $145 | $160 |
| Sr | $165 | $190 |
| Pant Shells | | |
| Jr | $50 | $70 |
| Sr | $55 | $75 |
I purchased an Iron Head National/Grinder Jacket or Bauer Puffer Jacket last season; do I need to buy a new one?
Source for Sports will offer a patch to cover either jackets logo for $10. Source for Sports will begin taking in Jackets after June 1st for the logo change and ask that all jackets requiring the change be brought in by July 15th to ensure they are ready before the season. Jackets brought to Source for Sports after July 15th may not be ready by September 1st depending on the volume of work within the team department.
Can I get a patch or change logos on my Kewl Tracksuit or previous Ice Boltz Tracksuit?
Unfortunately not, the jackets are too thin and are also a discontinued model the Source for Sports was always needing to move away from. All remaining Ice Boltz items at Source for Sports will be deeply discounted as they have no way of returning items to suppliers that are already decorated, and Source for Sports bears the burden of the costs associated with that. Anyone looking for $10 jackets or pants, please go by the store.
If you have questions about equipment/apparel, please email Paul McLean - paul@sfsnb.com
What can I do with my old black helmet and Ice Boltz gloves?
Starting with the helmet, we would recommend taking the cage off and keeping it for use on the outdoor rinks or consider using it for refereeing. Use gloves for practice and any off-ice shooting workouts. This will prolong the life of your game gloves. Pants will be covered with a shell and can continue to be used. Use your bags until they fail or pass them on to someone in need of a new bag.
Will Junior Lakers players get access to Nipissing Lakers Women's Hockey Games?
Currently, all children under the age of 12 are free to get into Lakers Women's Hockey Games. Pending approval from the City of North Bay - NBDGHA Junior Lakers players of all ages will get into Lakers Women's Hockey Games by wearing their Junior Lakers Jersey.
Was the Rebranding voted on by current Executive?
Yes, the members of the executive discussed rebranding, met with representatives at Nipissing University and then voted on it. Two members of the executive who have a conflict of interested in this decision removed themselves from the vote. The motion was passed with a majority from the remaining executive members. The result was then discussed with our governing body, the OWHA. The OWHA reviewed the change and voted in favour of the Junior Laker name change.